Celebrating boxing day, artist's books by a British artist from Gagosian's rare book specialist, Doug Flamm
by
leslierankowfinearts
Damien Hirst
The Beautiful Afterlife
Published by Bruno Bischofberger, Zurich, 1997
Signed edition of 1000
8 1/4 × 6 5/8 inches (21 × 16.8 cm)
$2,500
———-
Considered by many to be one of Damien Hirst's most successful artist's books, The Beautiful Afterlife addresses ideas of mortality and decay with a Warholian flare through 480 hypnotic pages filled with stark images of cigarette butts. The book was published to coincide with an exhibition of the same title in 1997 and is hard to find. The copy is in good condition with only a minor bump in the upper corner.
Original 3 color foil block print. Publisher's hardcover binding
6 × ​10 inches (15.5 × 25.5 cm​)​; 328 pages; Fully illustrated
Published by Paul Stopler and Other Criteria, London, 2011
Signed by the artist
$5,000
———-
This deluxe edition catalogue was published by Paul Stolper and Other Criteria in conjunction with the 2010 exhibition Damien Hirst: The Souls at Paul Stolper Gallery. It includes an original three-color foil block print of a butterfly, signed and numbered by the artist, in an edition of one hundred. In his own words Hirst explains his use of butterflies in terms of "universal triggers: everyone's frightened of glass, everyone's frightened of sharks, everyone loves butterflies."
Another view on Damien Hirst: The Souls
Damien Hirst's beautiful butterflies in The Souls are so much impressive in situ than in photographs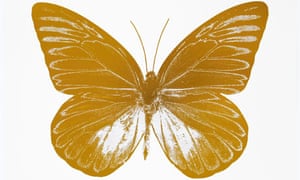 I looked up Damien Hirst's butterfly prints on the web before I went along to this exhibition – and I wasn't impressed. Butterflies are so beautiful in real life that it's hard to rival them in art. But then I walked into the gallery, saw the 120 creatures hanging in rows on the wall, and thought: "Wow!"
It's just like seeing a load of dead specimens in a display cabinet, except that Hirst has cheekily played around with their colours, and lit them up so they shine. He's used four species, two of which I recognised: the morpho cypris (a bright, shiny blue one from South America) and the African giant blue (second largest in Africa). The prints are anatomically correct – you can even see all the veins in the wings. But what knocked me out was seeing the morpho cypris in purple: if you got one that colour in real life, it would have a hard time, since butterflies recognise their mates by the colour of their wings.
In his notes to the exhibition, Hirst says he's intrigued by the idea that butterflies represent the soul. Throughout history, butterflies have symbolised both renewal and the souls of the dead passing through purgatory. One picture made me think about that. At first, I thought it was just an empty frame, then I realised it contained a perfectly white butterfly on a white background. You don't get that in nature – most white ones are tinged with black. It looked like a perfectly pure soul.
Butterflies are hard to pin down: they're always flittering and fluttering. Hirst has given us a rare chance to see them up close. People have always loved butterflies for their beauty, and because they remind us of summer. At London Zoo, whenever we do an event about habitat destruction, we use butterflies to illustrate our point. Cockroaches wouldn't have quite the same effect.
OUR NEXT LRFA BLOG WILL POST IN 2019! THE YEAR WENT QUICKLY AND I DON'T WANT 2018 TO CLOSE WITHOUT AN ENORMOUS THANK YOU TO THE CONTRIBUTORS. THIS BLOG WOULDN'T EXIST WITHOUT THE EXPERTISE AND GENEROSITY OF TIME AND KNOWLEDGE THAT THEY DONATE TO THE BLOG. SO MANY THANKS AS WELL TO THE MANY RSS SUBSCRIBERS AND FOLLOWERS– IT IS YOUR APPRECIATION AND CONTINUED INTEREST THAT FUELS THE FIRE.